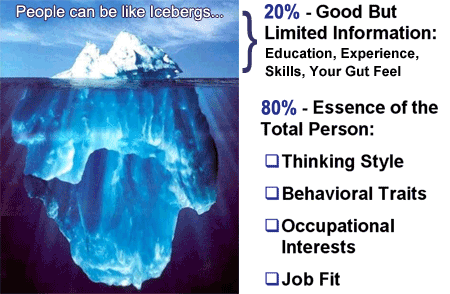 Avoid Costly Hiring Mistakes!
This system is designed for Executives, Managers and HR Professionals who want to select the right person for the job, retain them, enhance their performance and build leadership skills!
Over 25,000 companies rely on our Assessment tools to select, coach and maximize human capital!
The more you know about your people, the better you can impact your top and bottom lines!
Our Assessment Center offers you Internet testing capability with instant results in a user-friendly system! We can have you set up, trained today and testing tomorrow! In depth face to face training is available.
Thanks for visiting us and feel free to contact us anytime. We may look like an Internet company, but we believe in people first! Call us and you will discover good consultative services are our calling card!