Developing Effective Leaders with Checkpoint 360° Feedback System
Employees don't quit companies, they quit bosses!
Designed for people who lead, manage, or influence the activities of others! It gives managers feedback from peers, direct reports and multiple bosses on soft people skills. Sets priorities, includes individual development plans and measures progress. Managers get a new perspective on their strengths, opportunities for development and blind spots!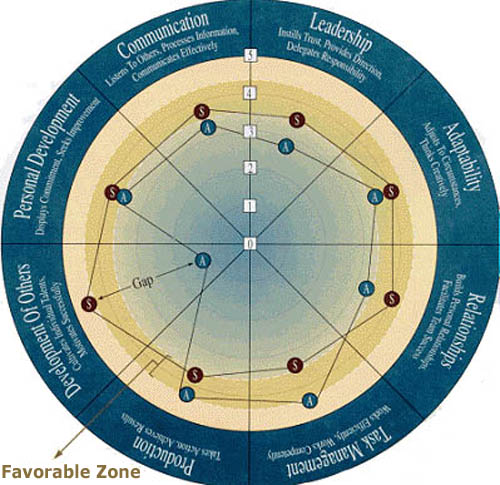 The chart to the left is the first page of our 360 and compares how the manager (Maroon circle with the S inside) sees his performance versus all coworkers including the boss (Blue circle with the A inside). Ratings of 1-5 represent frequency of behavior from never (1) to always (5).
Checkpoint a Year Later Measuring Progress…
This section reviews the changes between the previous reporting period and the current reporting period. When the average score for a Skill Set increases, this suggests a significant positive change. Conversely, when that average score decreases, this suggests that some time may be spent examining your behavior in those areas.
A comparison of the current report with the previous Checkpoint shows that there has been a change in those Skill Sets designated as Strengths or development Areas.
These four Skill Sets were listed as either "Critical Development Areas" or "Build on this Strength" on the previous Checkpoint Assessment. For convenient comparison, the ratings from that previous report are shown here along with the current ratings. There is an indicator shown if the ratings changed significantly between two assessment periods.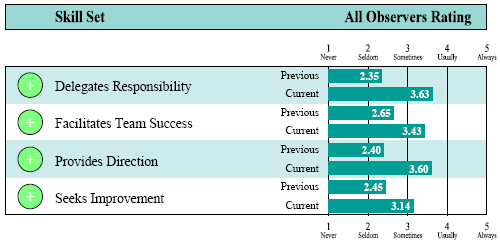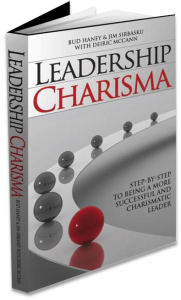 The Research: What We Did
40,000 manager-leaders assessed for their leadership charisma… by almost 400,000 'Direct Reports'
What impressed me most about the results of [the] surveys was the fact that in every case, people come out where I expected them to. It proved to be reliable and foolproof. I found it particularly interesting that the lower performers on my team were also the lower scorers on the assessment.
The Success Patterns generated by your studies prove to be very valuable and certainly has helped us to focus on the important traits of our most successful managers. The Profiles assessment system is an excellent tool for training and promoting employees as well as new hires.
360° Leadership Development