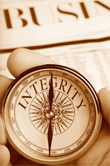 Years ago when I was 18 and got my first job working on an assembly line making 3X minimum wage a co-worker told me to work the same way the company paid me…..  VERY LITTLE and ONLY ONCE A WEEK!  You can keep that attitude out of your company with the Step One Survey!
Reduce earlier terminations for absenteeism, tardiness, work ethic and theft by testing for these before you hire!  Keep the good apples and spot potential bad apples that take away from your bottom line!
Critical Issues
Does the person's attitude match those of honest employees who can be trusted not to steal?
Does the person have an attitude toward work that is like the attitude of long-term, hard-working employees?
Does the person's attitude regarding reliability and being on time match those of people with proven records of dependability?
Does the person's attitude about drugs match the attitudes of people who do not use drugs?
What impressed me most about the results of [the] surveys was the fact that in every case, people come out where I expected them to. It proved to be reliable and foolproof. I found it particularly interesting that the lower performers on my team were also the lower scorers on the assessment.
The Success Patterns generated by your studies prove to be very valuable and certainly has helped us to focus on the important traits of our most successful managers. The Profiles assessment system is an excellent tool for training and promoting employees as well as new hires.