This pre-employment and coaching profile helps select Customer Service Reps who have critical (hard wired) behaviors of tact, courtesy, follow up, attitudes and vocabulary that build loyalty, client satisfaction, repeat business and referrals!
Studies tell us it costs 7 times more to get a new client than to keep an existing client!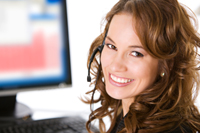 This survey will improve:
Client Satisfaction and Loyalty!
Referrals and Reputation!
Raise the bar for your existing staff to see!
Take the Guesswork Out of Hiring and add to your bottom line!
The Customer Service Profile can be industry specific to Healthcare, Finance, Hospitality and Retail! You can model it after your top performers!
What impressed me most about the results of [the] surveys was the fact that in every case, people come out where I expected them to. It proved to be reliable and foolproof. I found it particularly interesting that the lower performers on my team were also the lower scorers on the assessment.
The Success Patterns generated by your studies prove to be very valuable and certainly has helped us to focus on the important traits of our most successful managers. The Profiles assessment system is an excellent tool for training and promoting employees as well as new hires.
Customer Service Best vs Bad Performance