A Succession Planning System to Identify and Develop your Future Leaders!
Identify your Upwardly Mobile Employees with our Succession Planning System
Who fits key positions both laterally and upward!
Reveal their competency gaps & get questions & coaching suggestions!
Measure your bench strength!
Career plan inside your company!
Individual Leadership Tips for each person!
Can they go from tactician to strategist?
How well do they mentor, engage and motivate in and out of silos?
Team leadership and management reports for planning & delegating to the right people!
How Job Match Takes the Guesswork Out of Hiring and Promoting!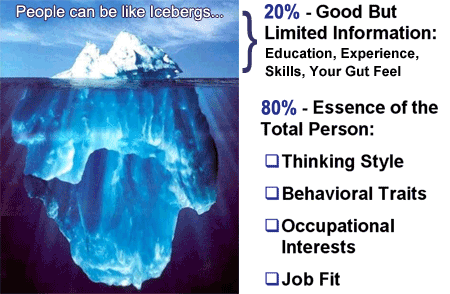 Develop Key Leadership & Management Skills with Checkpoint 360 Feedback System.
Checkpoint focuses on eight major skill sets and 18 universal leadership competencies showing strengths, opportunities and reveals blind spots plus offers 18 Individual Development Plans (IDPs). It measures change over time by comparing old 360 to new 360 with new IDP opportunities!
This chart is the first page of our 360 and compares how the manager (Maroon circle with the S inside) sees his performance versus all coworkers including the boss (Blue circle with the A inside). Ratings of 1-5 represent the frequency of behavior from never (1) to always (5).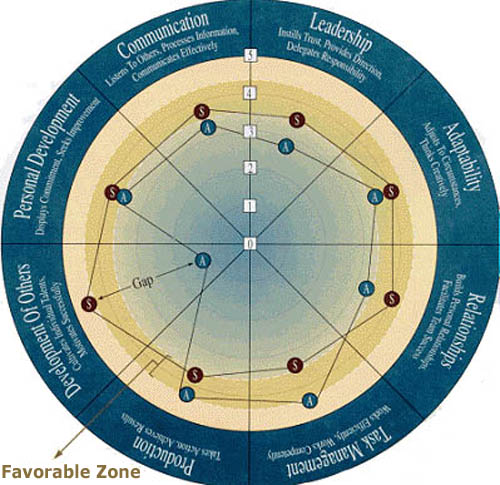 What impressed me most about the results of [the] surveys was the fact that in every case, people come out where I expected them to. It proved to be reliable and foolproof. I found it particularly interesting that the lower performers on my team were also the lower scorers on the assessment.
The Success Patterns generated by your studies prove to be very valuable and certainly has helped us to focus on the important traits of our most successful managers. The Profiles assessment system is an excellent tool for training and promoting employees as well as new hires.