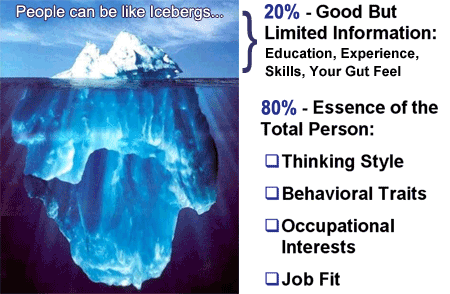 Avoid Costly Hiring Mistakes!
This system is designed for Executives, Managers and HR Professionals who want to select the right person for the job, retain them, enhance their performance and build leadership skills!
Take the Guesswork Out of Hiring with PXT Select™!
PXT Select is an ideal tool for hiring & promoting Managers, Executives, Supervisors, and B2B Sales Consultants.  PXT Select™ lets you see the total person, their core foundational traits in cognitive, behaviors, interests and how they match your current top performers or our well-researched library of performance models!
We study top and bottom performers and run differential studies to identify the key differences to help clients know key points required for success and the areas to avoid!
This gives you a simple job match rating with-gap analysis, behavioral based interview questions to use on candidates and references plus coaching suggestions for managers!  You can compare the boss and candidate to see how well they match each other.  You can easily look more strategically for management potential in your final candidates or among your employees.  With nearly 30 years of Job Match experience, we are experts in avoiding costly hiring mistakes!  INSPECT what you EXPECT!  Call us, we will listen and prescribe the right solution for you!
PXT Select™ makes the very human decisions about hiring simpler and smarter.
PXT Select helps fill the gap between the resume and the interview. It provides organizations with actionable objective data about candidates in a simple to understand format that can help you to interview better and hire smarter.
It is an online selection assessment that measures a candidate's cognitive abilities, behaviors, and interests.
Assessment results equip organizations and hiring managers with easy to understand information about the candidate, and provides intuitive questions to strengthen the interview process.
PXT Select™ measures a candidate's thinking style, behaviors, and interests: three areas that impact an individual's approach to situations in the workplace.
The PXT Select™ is a trademark of John Wiley & Sons, Inc. or its affiliated companies